Welcome to ISPN Sports - Internet/Radio Sports Network!
Coming August 1st 8am- 10am- the K-Mac Show and the All New "Pin High" Golf Show!!
Listen to the Pin High Show on 3 great Radio Networks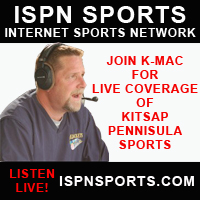 Jordan Speith Wins the Open and 3rd Major
Kitsap Hornets Win NABA Baseball World Championship
Sergio Garcia Wins 2017 Masters in Sudden Death Over Justin Rose
Spokane Falls Women and Walla Walla Men Win NWAC Championships
Golf News...
19 March 17-ISPN Video Interviews from Tuscon Classic
Roller Derby-Eves of Destruction 171 @ Roller Derby Company 153
Bremerton's Ron Atkins Wins Long Jump 20'6"
Golf-Aired 5 Feb 17 Coverage of the Waste Managment Pheonix Open
BOXING- Watch ISPN Coverage of MMA Fight Night--Click Below
Video Coverage of R.J. Hoyt
Golf Interviews: Click below for our Podcasts
Watch Jose Angel Jimenez Video at Charles Schwab Cup
Jonny Miller and Phil Mickelson Talk about Tiger Woods at Safeway Open
Tacoma's Andres Gonzales Emiliano Grillo
Click Below for ISPN Video Interviews at the 2016 Boeing Classic
Watch the K-Mac Video Channel for more sports coverage Click Here